Full automatisk CZ-purlinvalsmaskin
Produktbilder: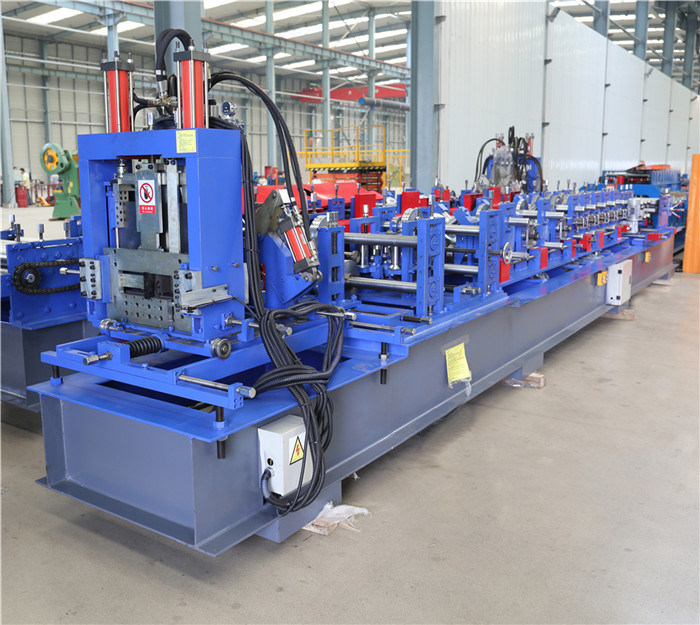 2. Detaljer: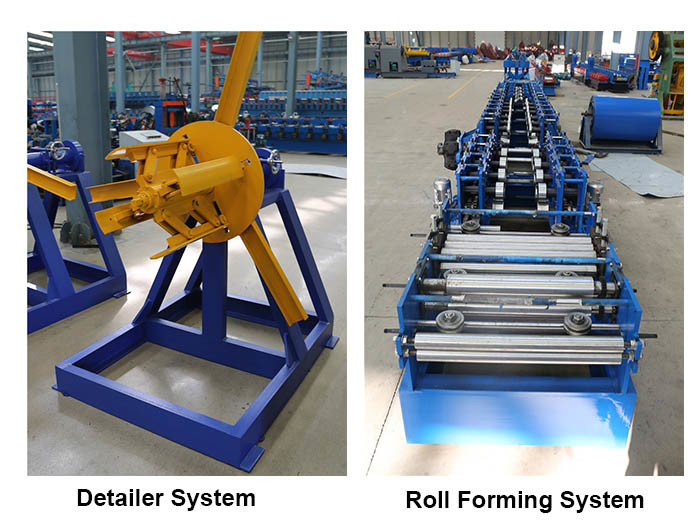 Decoiler System:
Användning: Passiv ospolning dras av valsformningssystem, stödjer stålspolen och lossar den på ett skivspelare.
No :

Decoiler System Main Parameter :

1

Loading capacity

1.5-3.0T

2

Uncoiling width

300-1000mm

3

Inner diameter

450-550mm
Roll Forming System:
Användning: För att behålla produktens form och precision, antar den svetsade plåtstrukturen, motordrivningsdrivningen, växellådan (den första och den sista rullen, den nedre valsen ska fästas med den övre med växeln). polering, hårplätering, värmebehandling och galvaniseringsbehandling. Den polerade ytan och värmebehandlingen mot formarna kan också hålla formplattans yta slät och inte lätt att märkas när den stämplas.
No :

Roll Forming System Main Parameter :

1

Length of the main part

about 3000*1000*400-8800*1500*1200

2

Weight of main part

3-8 tons

3

Voltage

380V/50HZ3Phase (as customer's request)

4

Roller fixer

guide column

5

Frame

steel plate welded/ Memorial arch frame type

6

Frame thickness

25mm

7

Drive mode

gear

8

Material of rollers

GCr15MoV

9

Material of shafts

45# steel with tempering

10

Diameter of shafts

φ40mm

11

Number of rollers

10-16 rollers

12

Main power

3-11kw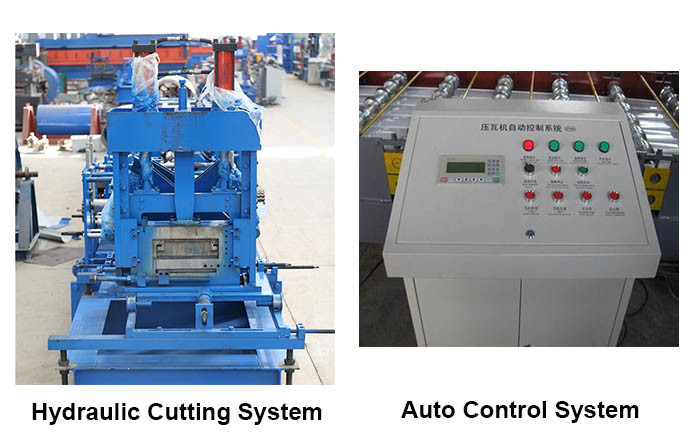 Automatisk skärningssystem:
Funktion: Automatisk skärning styrd av PLC. Se till stabilitet, precision och skärhastighet. Den antar den hydrauliska drivenheten och den automatiska platsen för att bestämma dimensionen och minska målprodukterna. Den innehåller en uppsättning skärverktyg, en hydraulbehållare och en skärmaskin. Hydraulikstation styrs av oljepumpen för växelhjulet. Efter att ha fyllt den hydrauliska oljan i den hydrauliska oljetanken, driver pumpen skärmaskinen för att börja skärningen. Systemet inkluderar en uppsättning hydraulbehållare, en uppsättning hydrauloljepump, två hydrauliska rör och två uppsättningar elektromagnetismventiler.
No :

Cutting System Main Parameter :

1

Material of blades

Gcr12MoV quenched

2

Power supply

hydraulic power

3

Frame

Pillar style with rack & pinion system

4

Stroke switch

non-contact photoelectric switch

5

Hydraulic motor Power

3-5kw

6

Hydraulic oil:

46#
Elektriskt styrsystem:
1. Antagen PLC, givare, pekskärm från Delta Taiwan för att säkerställa hög hastighet med stabilitet, precision och livslängd.
2. Andra elektriska element är Delta.
3. Utrustad med rörlig strömbrytare, luftbrott, kylare, transformator och elektriskt läckskydd för enkelhet och säkerhet.
Produkter som får tabell:
Den antar svetsat stål och uppburen rull för att överföra produkterna.
Företagsinformation
JCX (Golden Integrity Roll Forming Machine Co., Ltd.) Är ett företag som specialiserat sig på kallvalsmaskiner och metallbearbetning. Vi utvecklar olika kallvalsmaskiner för tillverkning av takplattor, takmetallram och svetsrörsmaskin, som används inom följande områden som byggindustri, bilindustri, förpackningsindustri. JCX-fabriken byggdes 2000 och dess maskiner har sålts mer än 70 länder, så vänligen lita på oss. Skapa din egen kallvalsformande värld med oss.






Förpackning och frakt:
1). Behållare förpackning av linjen lämplig för utländsk frakt
2). Ämnen kan laddas i en 20 'behållare.
3). Paketstil: Täckt av plastfilm, reservdelar och några små delar packade i kartong.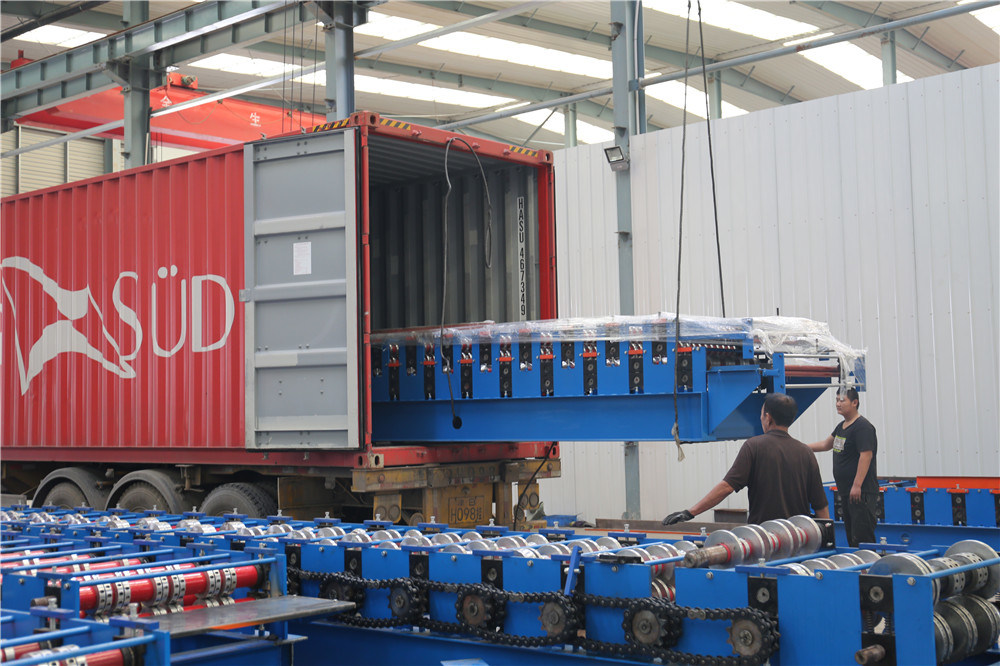 Våra tjänster:
♦ GARANTI:
12 MÅNADERS GARANTI. OM NÅGRA DEL AV MASKINEN ÄR BROKEN. VI LÄMNAR DEN BÄSTA DELEN, MEN OM DE SKADA DELARNA FÖR ATT DRIFTA FEL kommer KÖPARE att betala för fraktavgiften.
♦ TJÄNSTER SÄLJ:
Vi skickade tekniker till ditt land för att fixa maskinen. KÖPEN BÖR ALLA KOSTNADEN INKLUDERA: VISA, RIKTTRYCKTICKET OCH LÄMPLIG BOKNING, OCH KÖPARE SKAL BETALA LÖSEN 100USD / DAG.
Certifieringar: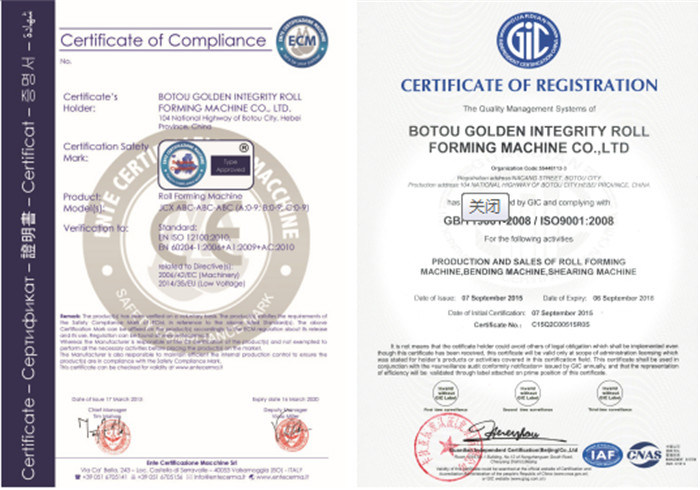 Produktkategorier : C / Z Purlin Roll Forming Machine > CZ Purlin Roll Forming Machine