Prefab House Light Steel Köl Roll Forming Machine
stud- och spårvalsformningsmaskin har utformats för automatisk tillverkning av metall c stud eller du spårar kontinuerligt för ljusmätare eller lätta stålbyggsystem.
Metal c stud och dina spår är bra uppfinningar i stålbyggnadsprojekt, och det gör gipsplattform och spårrulleformningsmaskin, eller till och med alla lättviktiga eller lättlökande rullmaskiner som är mycket populära i det internationella. Det finns många internationella ledande tillverkare av rullformningsmaskiner (som HOWICK, FRAMECAD, SCOTTSDALE och DALLAN etc) vars primära produkter är stålramverkningsmaskiner.
Specifikation :
1) Kan producera Metal stud. gipsskivor, järnväg, ljusköl, takfack
2) Höghastighetsarbete, perfekt finish
3) Europeisk kvalitet, fungera smidigt .

Här är några exempel för din referens :
Huvudparametern för gipsplåt med metallplåt:
| | |
| --- | --- |
| Material hardness | 550mpa-350mpa |
| Loading capacity | 1.5T |
| Uncoiling width | 300mm |
| Inner diameter | 450-550mm |
| Processing material | GI |
| Material thickness | 0.4-0.8mm |
| Frame thickness | 25mm |
| Drive mode | gear |
| Forming speed | 20m/min |
| Formed width | 46.5mm |
| Material of shafts | 45#steel with tempering of keel roll forming machine |
| Diameter of shafts | φ40mm |
| NO. of rollers | 10 rollers |
Obs! De här parametrarna är endast referens, akut kommer de flesta av dem att vara olika beroende på produktskillnad .

Bilder av maskin: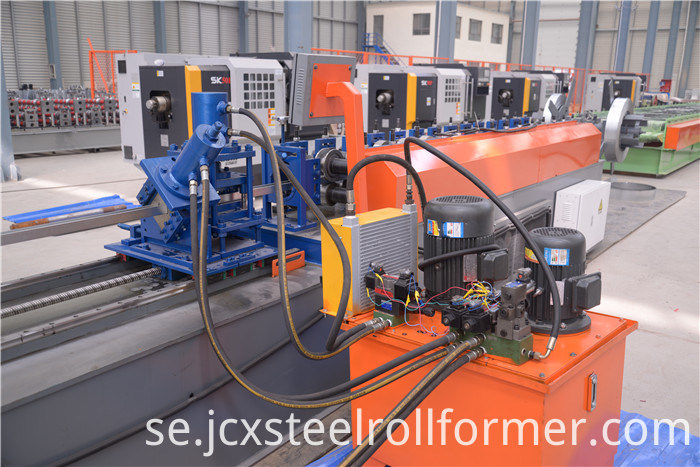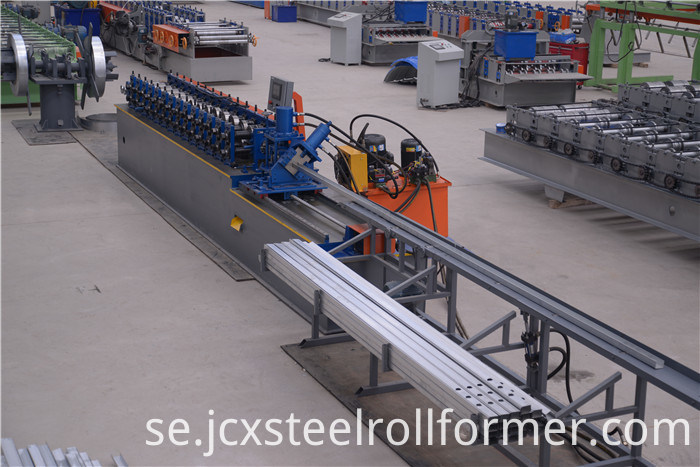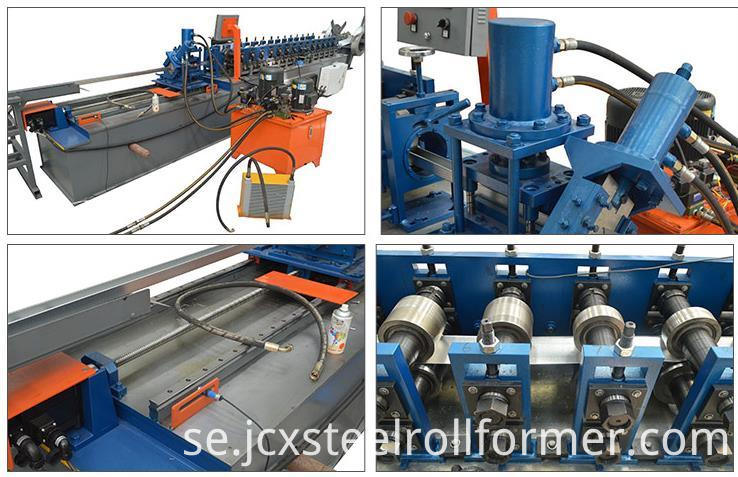 Företagsinformation:

JCX (Golden Integrity Roll Forming Machine Co, Ltd) är ett företag som specialiserat sig på maskiner för kallvalsformning och bearbetning av metallplåt. Vi utvecklar olika kallvalsformningsmaskiner för tillverkning av takplattor, takmetallramar och svetsrörsmaskiner, som används inom följande områden som byggindustrin, bilindustrin, förpackningsindustrin. JCX fabriken byggdes år 2000 och dess maskiner har sålts mer än 70 länder, så vänligen lita på oss. Med oss, skapa din egen kallvalsformande värld.





Vår tjänst:
en. Om köpare besöker vår fabrik och kontrollerar maskinen, lär vi dig hur du installerar och använder den rullande maskinen till salu, och tränar också dina arbetare / tekniker ansikte mot ansikte.
b. Utan att besöka, skickar vi dig användarhandbok och video för att lära dig att installera och använda.
c. Om köparen behöver vår tekniker att gå till din lokala fabrik, vänligen ordna ombord och logi och andra nödvändiga saker.
d. Om det finns något problem med stålplattformningsmaskiner, reparerar vi rullmaskinen till försäljning gratis på ett år.
Produktkategorier : Ljusmätare Stål Framing Forming Machine > Drywall Partiton Profile Forming Machine