Omega Modellkanalformningsmaskin
Vårt företag ligger i Botou i Hebei-provinsen, vi har bekväm transport som våra fabriker är i sidan av No.104 National Road och stängs till No.106 National Road och Jinghu Railroad.
Vårt företag grundades 1995. Med forskning och design i många år har vi blivit en professionell tillverkare av rullande maskin. Våra produkter säljer bra till Afrika, Syd Europa, Ryssland, Östasien och Sydamerika och så vidare.
Vi ställer kundernas intressen först, så våra produkter har hög kvalitet. dessutom har vi bra service efter försäljning, våra ingenjörer kan gå utomlands för att felsöka och tillhandahålla service
1. Chanel maskin
Denna produkt används ofta i många slags industrifabrik, civila byggnader och väggbräda för tillhörande produkt. Det har fördelar med vackert utseende, hållbar användning och så vidare.
Denna maskin består av automatisk urladdningstabell, matningsbord, huvudformningsmaskin, skärverktyg, hydraulisk station och datorstyrsystem.
Valfritt system är normalt uncoiler och hydraulisk uncoiler. Modellen av varje ark kan utformas enligt kundernas krav.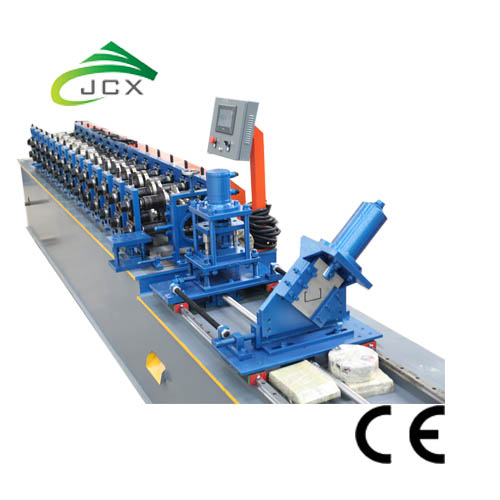 Profile

Thickness range

0.45mm-1.5mm

Process flow
Manual decoiler---feed with guide---roll forming---press step--- cut with fixed length---output with table


Decoiler

type

Manual

Min material inner dim:

450mm

Max coil width

200mm

Max coil weight

2T

Forming machine

Machine dimension

3400*700*900mm

Power(kw)

5.5kw

roll stations

10stations

Sheft material

45#steel

Sheft diameter

50mm

roller material

Cr 12

Roller material treatment

Heat treatment

Transmission type

Gear

Forming machine

Machine feeding adjustment type

Manual

speed

0-25m/min

Motor power

5.5kw

Motor voltage

380V

Motor brand and origin of the

Taida brand,taiwan

Frame structure:

Thickness:25mm

Machine level adjuetment

Yes

Length counter

yes

Cutting system

Blade material

Cr 12

treatment

Heat treatment

Hydraulic motor power

3kw

hydraulic brand and origin of the

Taida taiwan

Cutting tolerance

2mm

Hydraulic pressure

16mpa

Control system

PLC type and brand

Taida taiwan

Touch scream

yes

Automatic length measurement

yes

Automatic quantity

yes

Length and quantity list

yes
2. Processer och komponenter
Teknisk process:
Manuell avkylare --- matning med ledning --- rullning --- presssteg --- skär med fast längd --- utgång med bord
3. Komponenter av linjen:
| | | | |
| --- | --- | --- | --- |
| No. | Name | Unit | Qty |
| 1 | Man-made uncoiler | set | 1 |
| 2 | Main machine for roll forming | set | 1 |
| 3 | Control system | set | 1 |
| 4 | Hydraulic system | set | 1 |
| 5 | mold pressing machine | set | 1 |
| 6 | Blade | set | 1 |
| 7 | Receiving table | set | 1 |
4. Förpackning:
När det gäller maskinens förpackning ska den vara naken. Men vi skyddar maskinen väl före leverans, för att förhindra att maskinerna rostar.
Leverans: 40-50 dagar
Produktkategorier : Ljusmätare Stål Framing Forming Machine > Drywall Partiton Profile Forming Machine